Emotional Toxic Waste
A stage design for Peca Stefan´s play "Romania 21"
International Literary Festival "Interpretationssache 06", Schloss Retzhof, Styria, Austria
20.03 - 26.03.2006

Interpretationssache 06 is a project about the lifting of barriers:

Authors are always dealing with the limitations of their language. Being translated means to open up
new linguistic worlds to one's self and others, to conquer cultural spaces and to be able to get in touch
with a larger audience as an author.
Yet the form of the plays at hand is also targeted at the lifting of barriers, as the texts do not necessarily follow
a classical dramaturgy. Limitations are also to be found in our heads. In the plays, one encounters other worlds,
regional worlds which differentiate themselves from the worlds in our heads.
Not everything can be globalised - threatening or reassuring?
Six countries and six authors can be met in this international literature project: Finland, Bulgaria, Romania,
the Netherlands, Serbia and Belarus.

"Romania 21" - Peca Stefan
That a changed political situation has immediate effects on private life is picked out as a central theme in the
Romanian play "Romania 21" by Peca Stefan. A family are sitting at the empty lunch table and do not know
how to get something to eat.
A shot is fired on the street, communism dies. The family sees the immediate chance for a new future.
Over the course of the play we see that even though the people's personal circumstances do change,
it is not necessarily for the better. "Romania 21" is the relentless reckoning of the 23-year-old author
with his country in which any value system is ruined and where unrestricted capitalism rules.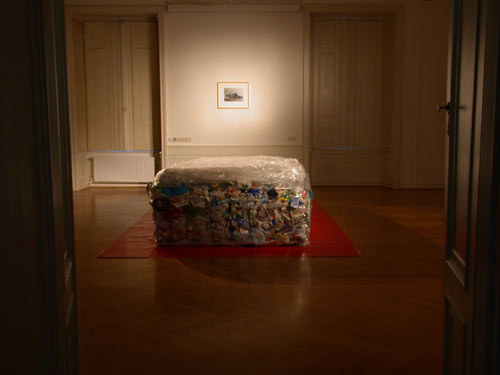 Emotional Toxic Waste - "Romania 21"
© Ernst Logar, 2006



Performance "Romania 21", 24.03.2006 - Video 29min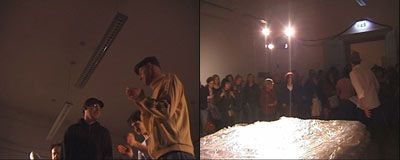 Vdeostills 1-14, © Ernst Logar, 2006